Kitsune is the French label home to so many good bands at the moment. Jamaica, Holy Ghost and Two Door Cinema Club are just three such bands which makes the label the shrine of music bloggers at the moment.
Crystal Fighters rightfully find themselves on Kitsune. With two Spanish girls, Laure and Mimi, two Londoners, Graham and Gilbert, and an American, Sebastian, the band does not really clarify easy definition. They reside in East London, though they have so many more ideas than any of the bands currenty residing in the city. With an album, 'Big Star', set for release in September, it is understandable that the hype machine is getting itself all in a lather over this five piece.
'Xtatic Truth' has garnered almost 90,000 views on Myspace and is a mix of synth and rave so powerful, Calvin Harris still has not figured out what it is. A song that clearly benefits from a healthy dose of ADD, the track has so many time changes it can be difficult to keep up with proceedings. If it was any longer than three-and-a-half minutes, listeners might need to be admitted to hospital.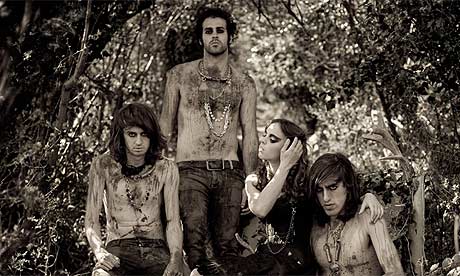 'In the Summer' is the group's next release and can be downloaded for free below. Aren't they generous?! A rousing chorus just made for a beach party revolves throughout the track. It reinforces the idea that the band has so many ideas. A machine-gun electronic drum sound persists underpins everything, while singer Laura chimes in with the heavily overdubbed vocals. It is something special, to say the least.
You can have a listen to the tracks below, as well as listen to a mix they did last year, from Youtube. Enjoy. They play the Body and Soul Festival in Meath this weekend as well.
In The Summer by Crystal Fighters
Crystal Fighters- Xtatic Truth by stripeyjumper